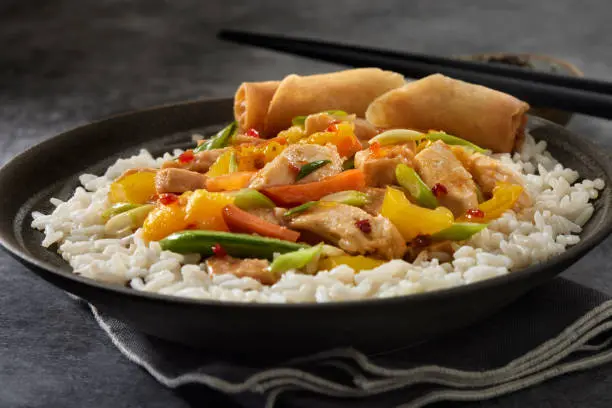 Raisukaree Curry, often called Yellow Curry, is a pleasing and fragrant Thai curry with a completely unique twist. It is a harmonious combo of Thai and Indian culinary influences, resulting in a flavorful dish it really is each creamy and fragrant.
This is my simple and healthy version of Raisukaree, Wagamama's favorite dish. Chicken, shrimp or tofu – all options can be found below.
This is what I usually order when visiting everyone's favorite Japanese high street restaurant – unless I like ginger chicken udon. You probably know by now that I'm not a calorie counter. To me, it's more about balance, although when I first shared this recipe, a lot of people told me it wasn't the healthiest dish.
That's why I tried to make this version as healthy as possible without compromising on taste. I did a quick calculation on an app and estimated it was about 600 calories per serving, including rice and full-fat coconut milk.
Raisukaree Curry recipe
Ingredients:
1 tbsp oil
1 red onion sliced
2 peppers chopped
100g sugar snaps or mange tout
50g spring onions trimmed & cut into 5cm pieces
1 red chilli for extra heat (optional)
200ml veg stock
400ml coconut milk
Lime wedges to serve
For the paste:
3 garlic cloves
2 lemon grass stalks trimmed & chopped
15g bunch coriander
5cm ginger peeled
1 tsp ground cumin
1 tsp ground coriander
1 tsp hot smoked paprika
2 tsp honey
2 tbsp fish sauce (sub with soy for vegan version)
1 tbsp soy sauce
1 tbsp groundnut or veg oil
Juice of a lime
either:
500g chicken breasts cut into strips
350g king prawns
280g tofu cubed
method:
Mix all paste ingredients togethe.
Heat a wok or deep frying pan and add oil and onion slices. Let it soften for a minute before adding the peppers.
Cook the peppers for 2 minutes and set the contents of the pan aside.
If you are making the chicken version, add the chicken strips and 3 tablespoons of the sauce to the pan. Cook for 3 minutes.
If making a tofu version, color the tofu first and then add the paste for a minute.
For the shrimp version, add the paste and then add the shrimp in the next step!
Add the broth to the pot along with the coconut milk. Bring to a boil, cook for a few minutes, then add the sugar snap peas, scallions, and reserved peppers/onions. Cook for 3 minutes, then add additional chiles and lime wedges.
You may also like:
Grilled Lamb & Almonds Shrimp Roast Potato & Creole
Beef bacon and baked pasta
Youtube channel