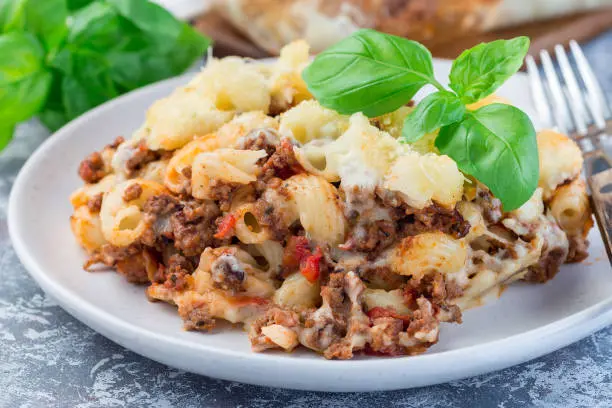 When it comes to sizzling, savory, and satisfying dishes, beef bacon and baked pasta are two culinary delights that stand out. In this article, we explore the intriguing world of beef bacon, the comfort of baked pasta, and how they come together to create a match made in foodie heaven.
Ingredients:
375g dried pasta
Oil for frying
6 rashers of smokey bacon, reduce into chunk size portions
1 onion finely sliced
80g shredded kale
1 tsp smoked paprika
300ml boiling water 1 vegetable stock cube
300g garlic and herb cream cheese
200g brie cut into cubes
A ball of mozzarella cut into skinny slices
Beef bacon and baked pasta
Method:
Heat the oven to 180C
Place the pasta in a large saucepan and cowl in boiling water.
Bring to the boil and simmer for 10 minutes or till simply smooth.
Whilst the pasta chefs, heat a drizzle of oil in a big frying pan.
Add the bacon portions and onions to the pan. Fry for five minutes over medium heat, stirring frequently.
Stir in the kale and smoked paprika and fry for a in addition 3 mins.
(Add a touch greater oil if needed)
In a measuring jug, pour boiling water over the stock cube. Stir till dissolved.
Whisk inside the cream cheese.
Drain the pasta and return it to the saucepan.
Pour over the broth, observed via the pork bacon, onions, and turnips. Season with salt and pepper.
Stir until combined.
Pour half of the pasta into a deep oven proof dish.
Press half the cubes of brie into the pasta at even periods.
Pour the relaxation of the pasta into the dish and repeat with the remaining brie.
Place the sliced mozzarella over the pasta and bake within the oven for 25 minutes until the brie has melted and the mozzarella is beginning to show a golden brown.
You may also like:
Grilled Lamb & Almonds Shrimp Roast Potato & Creole
Hamburger steaks with onion gravy
Youtube channel