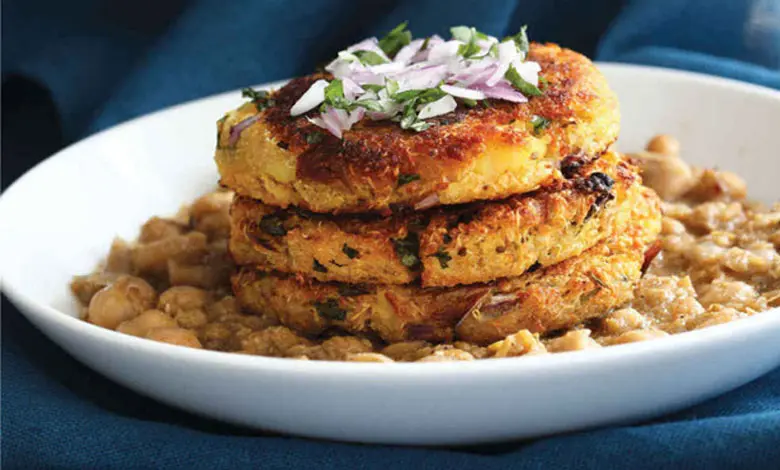 Savory Split Pea and Rice Zucchini Cakes
Gujarati handvo are savory desserts made with peas, lentils, and rice that are filled with shredded
greens. Baked or pan-fried, they are liberally coated in sesame seeds and pro with
mustard seeds and curry leaves. These savory snacks are complete of protein and filling sufficient to
nearly be a meal. Warm the slices within the microwave or in a pan before serving with chutneys
which includes Mint Cilantro Chile Chutney or Chile Garlic Coconut Chutney . This
recipe is sufficient to fill 6 (three half-inch) ramekins or 1 (6 half-inch) round stoneware pan, or to
make 5 to 7 pancakes.
Quantities.: Savory Split Pea and Rice Zucchini Cakes
BATTER:
1/3 cup yellow or green split peas or split pigeon peas or split chickpeas
1/3 cup red lentils
1/3 cup petite yellow lentils
2 tablespoons black gram (optional)
1 cup rice
1/4 cup nondairy yogurt
3/4 cup packed shredded zucchini or other vegetable such as cabbage or carrot
1/4 cup finely chopped onion
1 green chile, finely chopped or 1/2 teaspoon cayenne
2 teaspoons minced ginger
1 tablespoon sesame seeds
2 teaspoons lemon juice
1 teaspoon sugar
1 teaspoon turmeric
1 1/4 teaspoon salt
1/2 teaspoon baking powder
1/2 teaspoon baking soda
THE TEMPERING:
1 tablespoon safflower or coconut oil
2 teaspoons mustard seeds
1/4 teaspoon asafetida (omit to make gluten-free)
12 curry leaves, chopped
2 to 3 tablespoons sesame seeds, for garnish
1. For the batter: Soak the peas, lentils, and rice for three to 4 hours. Drain nicely and transfer to a
blender. Blend to a easy paste the use of 1/four to half cup water. Transfer to a bowl. Add the yogurt
and mix nicely. Cover the bowl and allow the batter ferment for 4 hours or in a single day. You can use
the mix right away as properly. The fermented aggregate tastes extra real, though, having
deeper flavors and a softer texture.
2. Grate the zucchini into a bowl and press with a paper towel to eliminate extra moisture. Add
the zucchini, onion, chile, ginger, sesame seeds, lemon juice, sugar, turmeric, salt, baking
powder, and baking soda, and fold to combine properly. Preheat the oven to four hundred°F.
Three. Make the tempering: Heat the oil in a small skillet over medium heat. When hot, add the
mustard seeds cautiously. Let them pop for some seconds. Add the asafetida and curry leaves
and remove from the warmth. Add half of of the tempering to the batter and mix in.
4. Grease the ramekins or baking dish (you may additionally line the bigger baking dish with parchment
to make it simpler to get rid of the handvo). Sprinkle a few sesame seeds on the lowest. Ladle the
batter into the ramekins till about 2/3 complete. Sprinkle sesame seeds at the batter generously.
Bake for 40 to forty five mins or till the top is golden and a toothpick inserted comes out nearly
easy.
Five. Cool for 10 to fifteen minutes. Remove the handvo from the ramekins or baking dish, and reduce
into 1/2-inch thick slices. Drizzle some drops of the remaining tempering on each slice.
Note: It is higher to over-bake than beneath-bake the handvo. The bean and veggie batter will be
moist even after the toothpick comes out clean. Once it's completely cool, slice it and allow it sit down
for a few minutes. The handvo will continue to dry out a piece because it sits.
To make at the stovetop: At Step 2, bypass preheating the oven. After Step 3, warmth a huge skillet
over medium warmth. When it's hot, drizzle a few drops of oil and spread it using a paper napkin.
Ladle 1/four to 1/three cup batter on the skillet. Tap the pan to even it out. Sprinkle half of teaspoon
sesame seeds at the pancake. Cover the pan and prepare dinner for 3 minutes. Uncover and prepare dinner till
the lowest is golden, approximately three mins. Flip and cook for 3 to four mins or until golden brown
on each facets. Repeat to make the subsequent pancake. Drizzle a number of the tempering at the pancake
before serving.
Youtube channel
Mom's Chickpea Flour Pancakes.
Potato Quinoa Patties