Recipes
Mom's Chickpea Flour Pancakes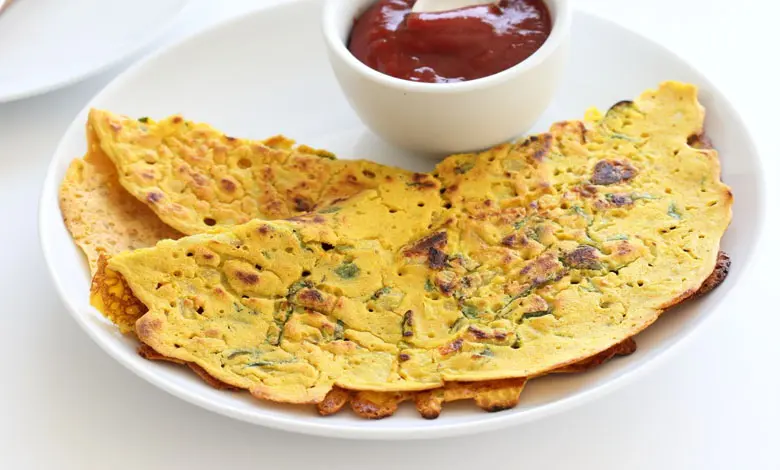 Mom's Chickpea Flour Pancakes
This is my Mom's chilla recipe. The conventional Indian pancake recipe is probably the best from
which maximum chickpea flour omelets are derived. These thin pancakes, made with a runny batter
using unleavened chickpea flour or besan, are a well-known breakfast in North India. These chillas
in the handiest form are clean and ideal for breakfast, a snack, or a factor flatbread. Stuff them
with roasted veggies or vegan feta. Serve with ketchup or chutneys. For a veggie omelet
model, add plenty much less water for a thicker batter and add leavening which encompass baking powder. Add
Mom's Chickpea Flour Pancakes
finely chopped veggies inclusive of zucchini. Mom calls it puda, however it's also referred to as cheela,
chilla, and pudla.
1 cup chickpea flour, garbanzo bean flour, or besan
1 half of cups water
3/4 teaspoon salt
1/four teaspoon turmeric
1/four teaspoon cayenne
1/four teaspoon carom seeds or cumin seeds
half cup finely chopped purple onion
1 hot inexperienced chile, finely chopped (cast off seeds to reduce heat)
1/four cup packed chopped cilantro
1 to 2 tablespoons 1 teaspoon safflower oil, divided
1. In a bowl, integrate the chickpea flour and 3/four cup water. Whisk to get a smooth consistency.
4. Cook until the edges begin to go away the pan and the bottom is golden brown, four to six mins.
Flip and cook dinner for 2 to 4 minutes. Continue to make the relaxation of the pancakes. Serve hot.
Tip: For a brief lump-unfastened batter, use a whisk to whisk the flour and water. Add most effective half of the
water initially and whisk inside the rest of the water a few tablespoons at a time.