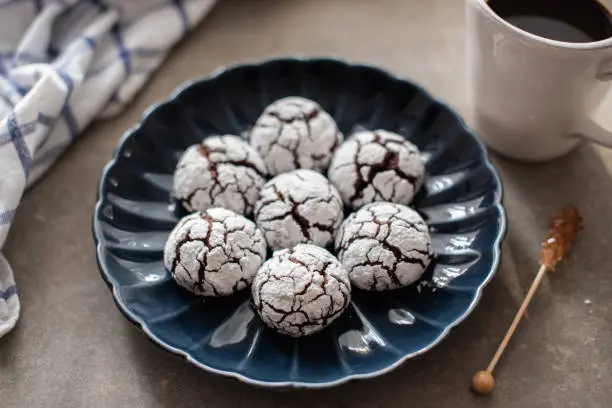 Chocolate Crackles A variegated pattern of deep dark chocolate and natural white powdered
sugar makes those crinkly cookies a placing have a look at in assessment. Roll balls of the rich dough first in granulated sugar, then
in confectioners' sugar. The first layer ensures that the second keeps its snowy white look.
MAKES ABOUT 5 DOZEN
8 ounces bittersweet chocolate, finely chopped
1-1/4 cups all-purpose flour
1/2 cup unsweetened Dutch-process cocoa powder
2 teaspoons baking powder
1/4 teaspoon coarse salt
1/2 cup (1 stick) unsalted butter, room temperature
1-1/2 cups packed light brown sugar
2 large eggs
teaspoon pure vanilla extract
1/3 cup whole milk
cup granulated sugar
cup confectioners' sugar
1. Melt chocolate in a heatproof bowl set over a pan of simmering water, stirring. Set aside and let cool. Sift together
flour, cocoa powder, baking powder, and salt in a bowl.
2. With an electric mixer, beat butter and brown sugar on medium speed until pale and fluffy, 2 to 3 minutes. Mix in
Eggs and vanilla, after which the melted chocolate. Reduce velocity to low; mix in flour combination in batches, alternating
with the milk. Divide dough into 4 same pieces. Wrap each in plastic; refrigerate till firm, approximately 2 hours.
3. Preheat oven to 350°F. Divide every piece into 16 1-inch balls. Roll in granulated sugar to coat, then in
confectioners' sugar to coat. Space 2 inches apart on baking sheets covered with parchment paper.
4. Bake until surfaces crack, approximately 14 minutes, rotating sheets halfway through. Let cool on sheets on twine racks.
Cookies may be saved between layers of parchment in hermetic containers at room temperature up to a few days.
Spinach Avocado Banana Smoothie
Avocado Blueberry Smoothie
Youtube channel